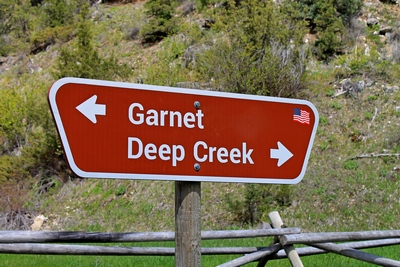 Sign at Beartown Montana indicating which way to Garnet Ghost Town
and Deep Creek Montana.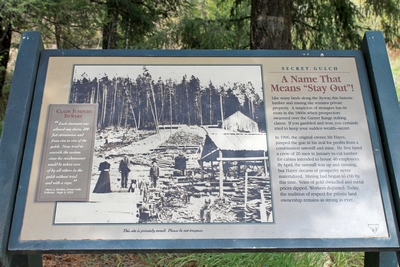 in the Garnet Range, Granite County Montana


At the intersection of Bear Gulch Road and Deep Creek Road and one of the earliest towns in the Bearmouth area, Beartown yielded one million dollars in gold and silver in 1866. The area housed the notorious "Beartown Roughs" and sought to be Montana's capital but then died out. Local folklore says that a Chinaman buried a fortune in a five-pound baking can and adventurers today are still on the hunt to find it. Nothing remains of old Beartown today. The Beartown area is private property but visitors are welcome.
More information:
Coordinates: (click for Google Maps)
Latitude: 46.793264646° 47' 35.8"N
Longitude: -113.3400759113° 20' 24.3"W
Elevation: 4,590 ft.

Nearby Cities (Ghost Towns):
Garnet 2.2 mi. N
Springtown 2.9 mi. E
Reynolds City (Powell County) 3.2 mi. NE
Coloma (Missoula County) 3.9 mi. NW
Top O'Deep (Powell County) 4.4 mi. NE
Yreka (Missoula County) 4.7 mi. N
all photos 5/22/17 by Andy Christen
click on the images to ENLARGE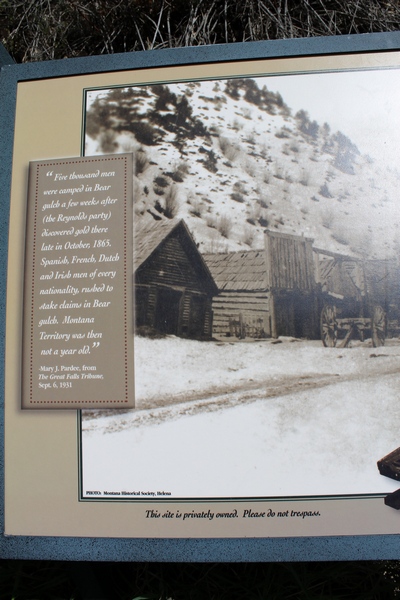 Secret Gulch (A name that means 'Stay Out!') sign along Bear Gulch Road 3/4 of a mile south of Beartown in the Garnet range, Granite County Montana.
Sign at Beartown. 5,000 men were camped at Bear Gulch a few weeks after (the Reynolds party) discovered gold there late in October 1865.

In 1866, prospectors hammered together Beartown almost overnight. By 1870, the boom ended. Nothing remains visible of Beartown today. Located in the Garnet range, Granite County Montana.
In contrast to Garnet, where family living was common in the late 1890's, this early mining community of Beartown, Montana fit the classic image of the Wild West. (sign in Beartown, MT)
A miner known as 'Shorty' made local history when he stumbled drunkenly into his own fireplace and badly burned his arm. Dr. Armistead Mitchell sawed off Shorty's arm and then joined his patient in an all-night poker party. Whiskey proved a powerful anestetic.